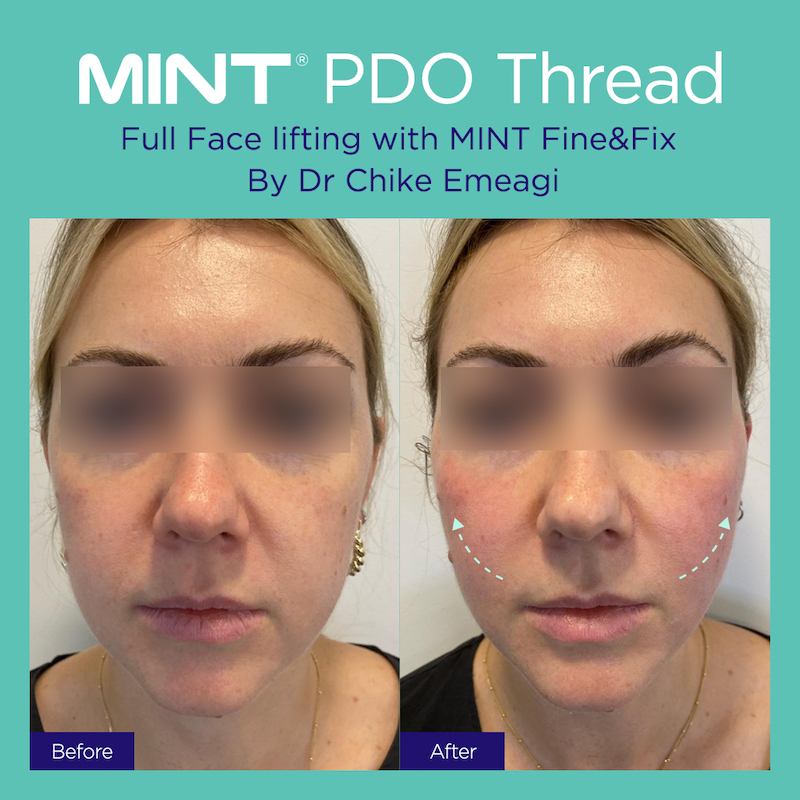 INTRODUCTORY OFFER 20% DISCOUNT
What is MINTTM PDO Thread Lift?
MINTTM stands for Minimal Invasive Nonsurgical Threads and is commonly known as the Thread Face Lift. It is a minimally invasive alternative to surgery, that serves to make your face look younger and brighter without the need for cutting away the skin. In a thread lift, threads are inserted underneath the skin to lift sagging skin instantly and effectively. The threads are mainly used on the face and the neck but can also be used to lift skin on the body. The thread lifting procedure is a minimally invasive, safe, and effective procedure with little downtime. It is also a great preventative or maintenance treatment. PDO threads can help preserve youthful skin before skin laxity becomes more discernible to the eye. Once these threads are inserted, they can even help to stimulate collagen production so your skin can stay looking nice and plump.
How safe is it?
MINTTM threads are made from a complex sugar polydioxanone or PDO – a safe suture material that has been used in orthopedic and cardiovascular surgeries for over 30 years. Not only that, MINTTM is also backed by more than 6 years of published studies for its safety and is the first and only PDO suture in the US market to have received dual FDA clearances.
What is PDO(Polydioxanone)?
PDO(Polydioxanone) is a biodegradable polymer that has been used as a surgical suture. It naturally dissolves and absorbs in the human body and promotes skin elasticity by stimulating collagen synthesis. PDO is a safe raw material that is nonantigenic and fully dissolved within 6 months of the procedure.
What is the Benefit of MINTTM PDO?
Long-lasting results (up to 12 -18 months)
Little risk of adverse reaction
Minimal downtime
No incision = no scarring
Combined with other anti-aging treatments such as filler
An excellent alternative to surgical options
2-in-1 lifting and firming procedure: patients may also experience improvement in skin texture, fine lines, and elasticity from collagen stimulation and neovascularization, which will give the skin an overall firmer and tighter look over time.
How do I know if I am a good candidate for MINTTM PDO?
For the most optimal results, the ideal candidate should have a skin layer that is not too thin or too thick and not extremely uneven. The skin should be thin enough so MINTTM PDO can make a visible difference and thick enough, so the threads are not too close to the surface of the skin. One way to check before a consultation with your provider is to lay down on your back and see if you like the way your face looks, as it can be a good indicator of how effective MINTTM PDO can be.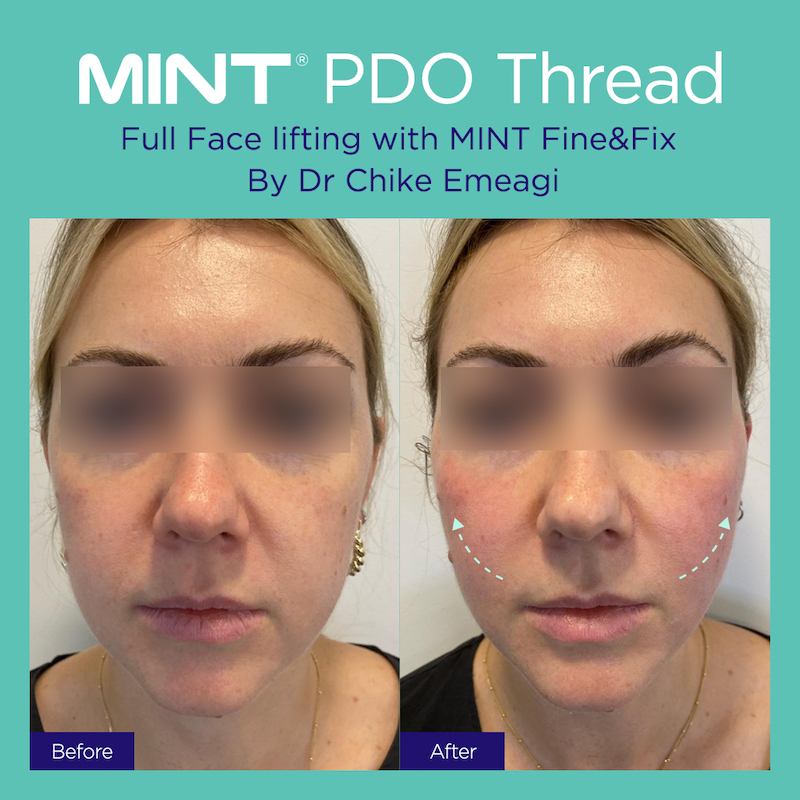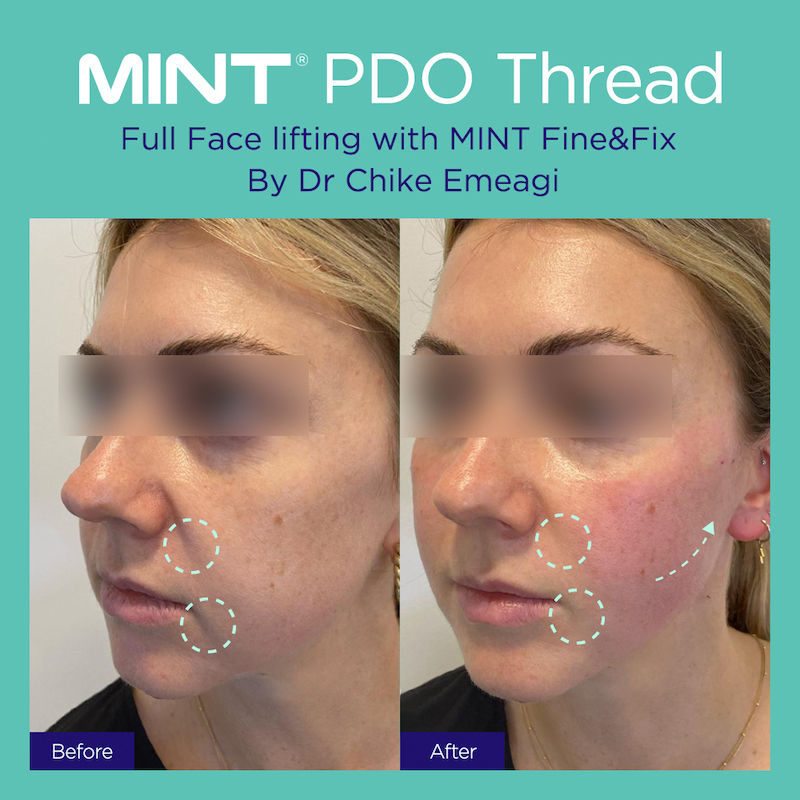 FQA's about MINTTM Thread Lift
How does the MINT PDO Thread lift procedure work?
A local anaesthetic is injected into all the areas where the threads will be placed, so the patient doesn't feel any pain during the thread insertions. The MINTTM PDO threads are inserted underneath the skin in the predetermined areas and then lifted upwards to achieve an instant, rejuvenating, and contouring effect. 
Which areas can be treated with the MINT PDO Thread Lift procedure?
MINTTM PDO Threads are barbed and highly effective for: 
Nasolabial folds and smile lines (mid-face) – currently offered at FaceKind
Sagging forehead and droopy eyebrows
Sagging eyelid
Sagging jowls
Sagging and wrinkled neck
Double chin
Marionette lines

 
Are there any side effects for the MINT PDO Thread Lift?
The MINTTM PDO thread lift is a very safe procedure, with no serious side effects. Mild bruising, swelling, and tenderness are expected after the procedure, which will resolve within a few days to a couple of weeks. 
Bone loss is caused after removal of a tooth. Most 'resorption' occurs within a few months.
How long does the MINT PDO Thread Lift procedure take?
The procedure can take anywhere between 30 minutes to 60 minutes. In total, you should expect the whole procedure to last for about two hours, which includes prep, numbing, and post-care. You may return to everyday life immediately after the procedure, but for 2 to 3 weeks you should avoid exaggerated facial expressions (like big smiles and yawns) and excessive neck until the threads are well incorporated into the tissue. 
Is it painful?
You may feel some slight stinging during the anesthesia injections, but once they are complete you should not feel any pain from the threads. Immediately after the threads are placed, you will feel some tightness in the treatment areas and may have some soreness for several days. Over the counter, analgesics such as paracetamol can be taken as needed for post-op comfort. 
What kind of results can I expect after the MINT PDO Thread Lift?
The great thing about the MINTTM PDO thread lift is that you can immediately see natural-looking lifting results, such as:
Heart-shaped, higher cheekbone contour
Exotic, cat eye contour
Softer smile lines (Softer eyebrows/ Smoother necklines)

 
How long do The MINT PDO Thread Lift results last?
Results will continue to improve over time as your body starts to regenerate more collagen for the next 3-6 months, up to one year. After 1-2 months, the skin will look rejuvenated, and you will notice a firmer and smoother texture to it.