Creating beautiful smiles…
BILLERICAY #1 INVISALIGN PROVIDER*
COVID Safe
No.1 In Billericay
Specialist services
Highly rated
Interest-free finance
Award-Winning
Billericay Dentist on the High Street
Private dentist in Billericay, Essex
At DentalKind, we pride ourselves in the fact that we will only provide honest, ethical and excellent dentistry tailored to your personal needs.
Our goal is to treat patients in a minimally invasive manner to help you preserve your teeth and smile throughout life. We have a strong emphasis on dentally health as well as delivering a bespoke and beautiful smile. We continually invest and keep up to date with the latest techniques in dentistry and our team regularly attend courses to maintain our excellent standards.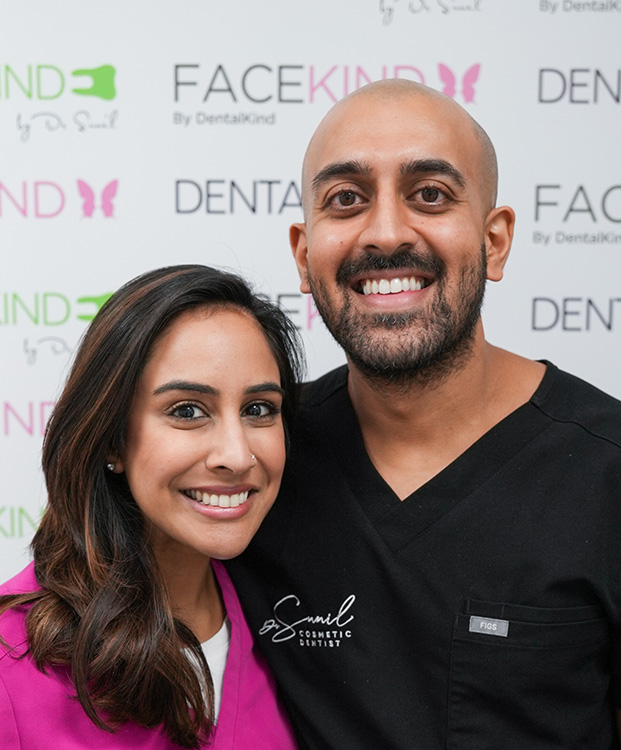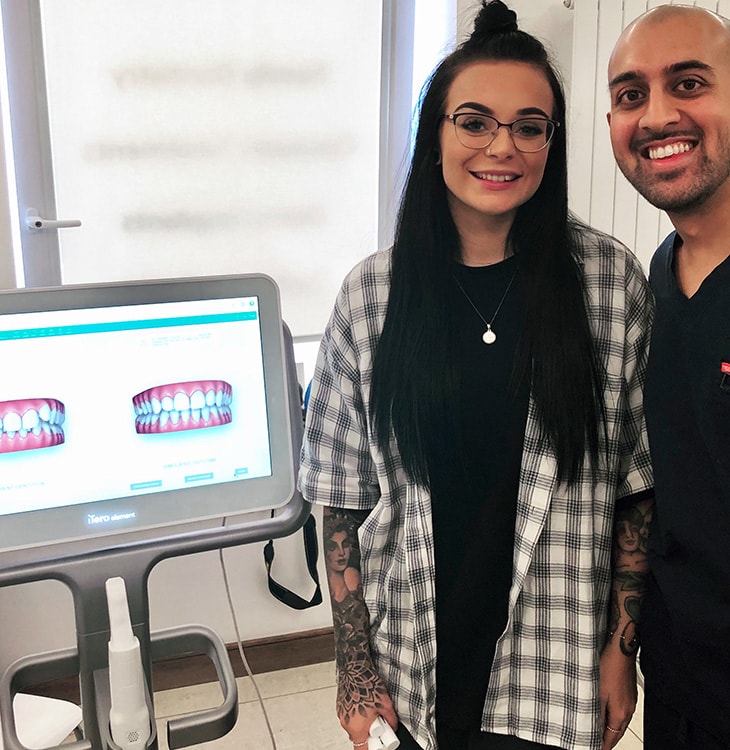 Our team of specialists, dentists, hygienists and therapists in Billericay, Essex offer an extensive range of dental treatments.
Our practice welcomes patients coming from local areas including Brentwood, Basildon, Stock, Hutton, Shenfield, Ingatestone, Wickford, Chelmsford and also London (as we are a short walk from Billericay Station).
DentalKind aims to provide total dental care all under one roof for your convenience and offer early, late and weekend appointments.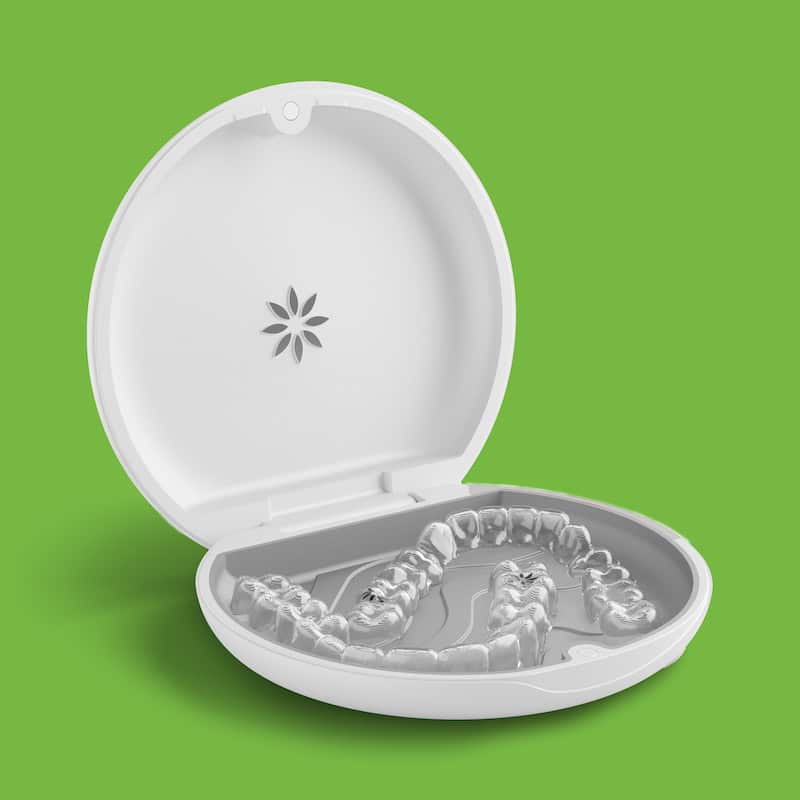 BILLERICAY'S NO.1
INVISALIGN® PROVIDER!*
Book your free consultation
*Based on the number of cases completed in 2021.
Popular treatments in Essex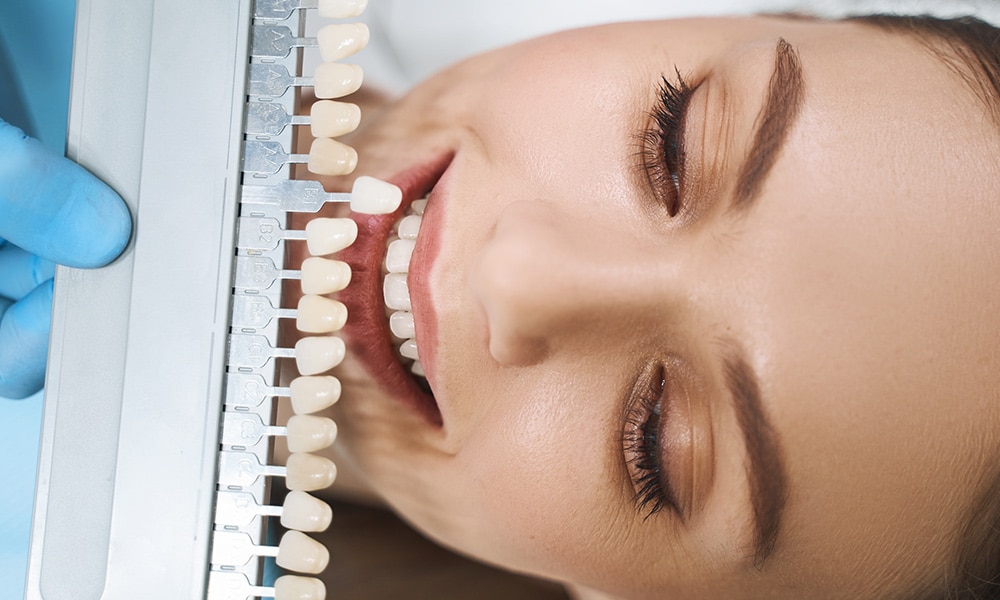 An instant smile makeover
Composite bonding is a painless and inexpensive treatment that quickly disguises minor dental flaws to give your teeth a brand-new look.
Dental bonding in Billericay uses a dental resin which is shaped and moulded to your teeth to cover up problems such as chipped, worn down or uneven teeth. There's no need for an injection or anaesthetic. Book an appointment to find out more!
Straighten teeth invisibly
Now you can straighten teeth without anyone knowing you're wearing braces. Made from thin plastic, these clear aligners sit over the top of your teeth and are practically invisible.
There's no metal wires or brackets which makes Invisalign far more comfortable than traditional braces.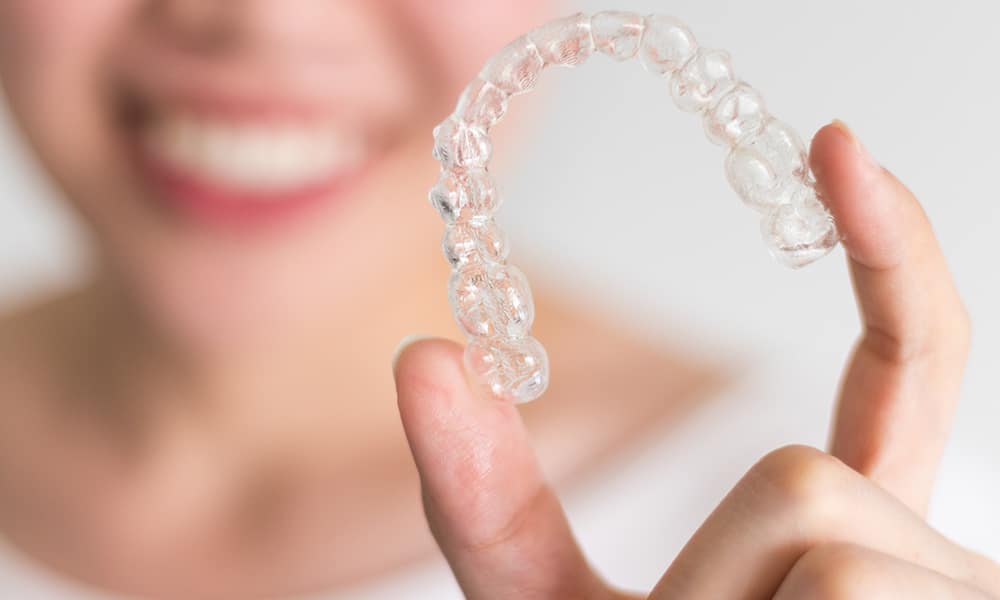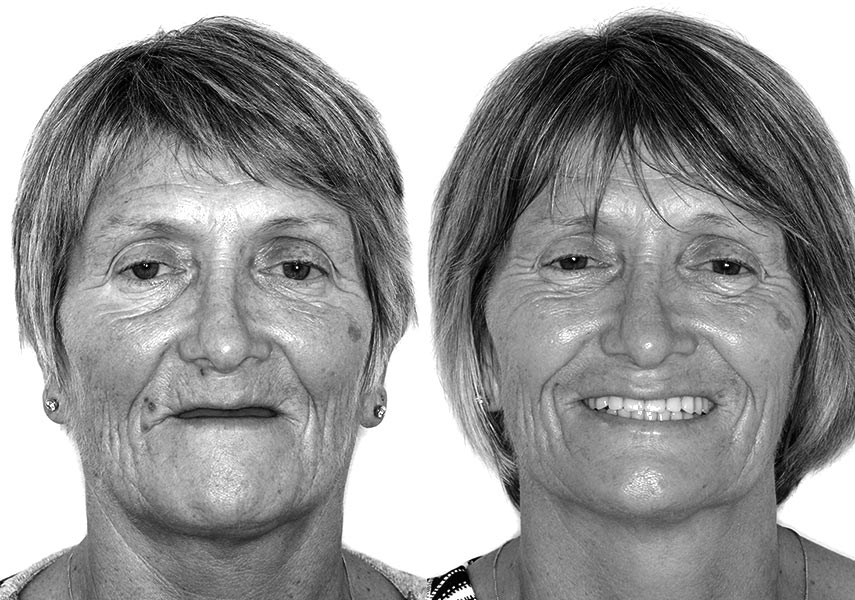 If you're missing a single tooth or if you have many missing teeth, then dental implants could be the best solution. Dental implants permanently replace gaps in your mouth or failing teeth so there's no need to wear dentures.
With dental implants you can eat all your favourite foods, talk and live your life as usual. Book an appointment in Billericay to find out more about dental implants.
Medical Aesthetics & Wellness clinic
FaceKind is a Medical Aesthetics and Wellness clinic located within the awarding-winning private dental practice DentalKind, located in the heart of Billericay, Essex.
FaceKind offers a wide range of anti-ageing and beautification treatments, including anti-wrinkle injections, dermal fillers, skincare and more.
Medical Aesthetics & Wellness clinic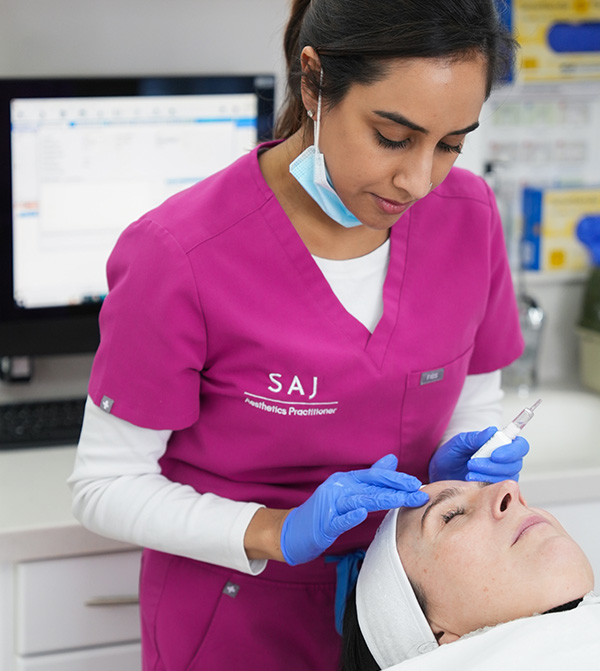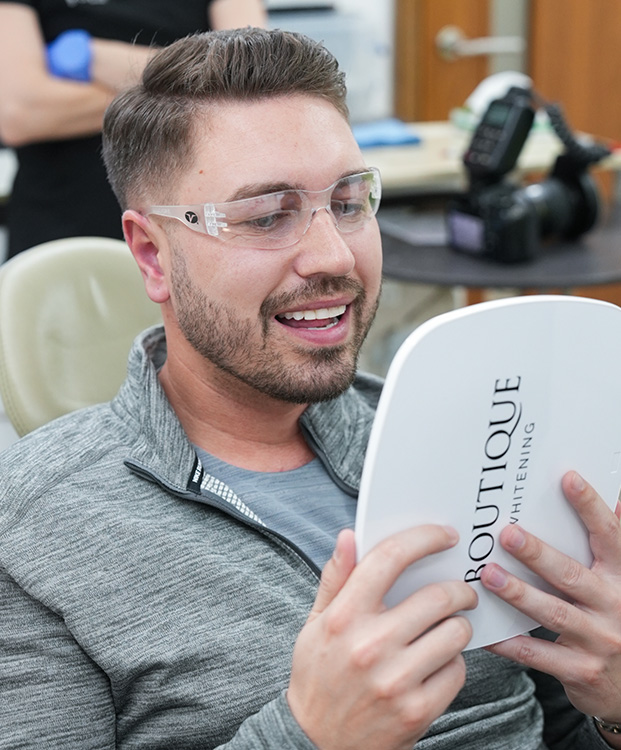 Get in touch to discuss your options with us
"Best dentist I've ever been to – Sunil and the team are all so friendly and make sure you're in the best hands possible"
Our team of specialists, dentists, hygienists and therapists in Billericay, Essex; offer an extensive range of dental treatments.
Our practice also sees patients coming from London, Brentwood, Basildon, Stock, Hutton, Shenfield, Ingatestone, Wickford and Chelmsford.
We aim to provide total dental care all under one roof for your convenience and offer early/late/weekend appointments.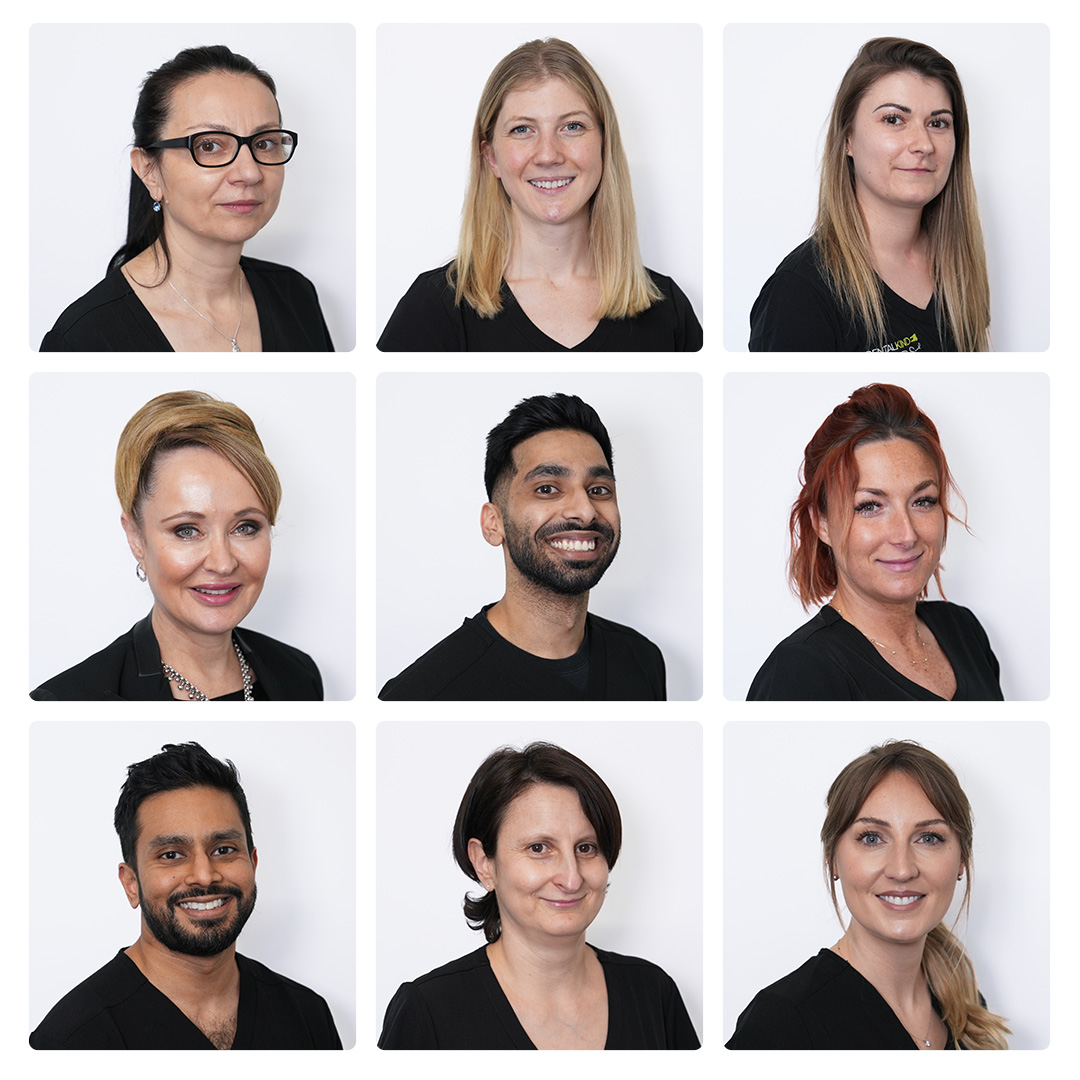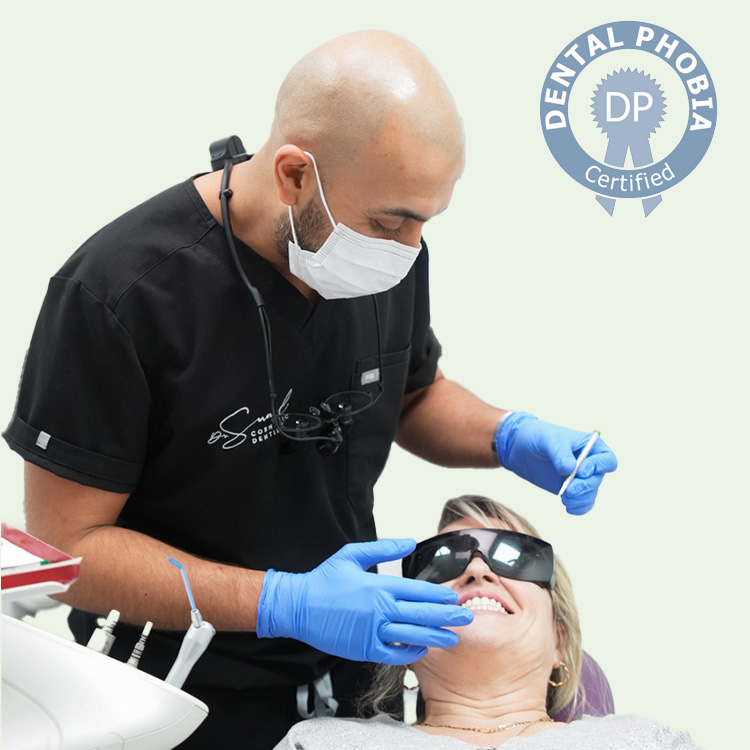 A dental phobia can stop you from seeing the dentist and at DentalKind we take time and use techniques to help calm your nerves making you feel more relaxed before and during your appointment.
Our dental team is experienced in providing expert treatment in a caring manner and we have treated many nervous and phobic patients. Get in touch with us and allow us to help smile and regain your confidence with visiting the dentist.
I have had a huge fear of the dentist for the entirety of adulthood and have genuinely never known a practice be so kind, compassionate and informative as this. I was talked through every step of my

...

procedure with the hygienist. Kerry was sweet and took everything at my pace so I wasn't overwhelmed with a lot of well needed praise and recognition! The admin staff have been so kind and patient with me whilst I cry booking appointments and waiting nervously in the reception area, particularly Megan who was super professional and lovely when I originally sent my enquiry explaining how nervous I was. I have had follow up calls after all my appointments to check how the works have settled and how I am feeling, which I think is a wonderful touch and shows just how attentive they are. And my dentist Chirag has been nothing short of amazing. He is so informative and is clearly incredibly knowledgeable and highly skilled in his work. I have been for three appointments to have multiple fillings re-done (some of which were quite deep, and tricky after some poor NHS work) But Chirag has taken everything at my own pace, shown me what work is going to take place, and been such a great comfort throughout. He works incredibly hard, and nothing is too much of a problem for him. My mouth has never felt better, and after multiple visits I managed the last one without a single tear! I honestly couldn't recommend a practice more. Best decision I have made in a long time deciding to finally take the jump and book in with you. Thank you.

read more
I recently had Invisalign and composite bonding with Sunil, and I couldn't be happier with the results. Sunil is an incredibly skilled and experienced dentist, and he made the entire process as easy

...

and stress-free as possible.During my initial consultation, Sunil took the time to understand my goals and expectations. He explained the entire process in detail, and he answered all my questions patiently and thoroughly. I felt completely confident in his care.My Invisalign treatment went smoothly, and I was amazed at how quickly my teeth straightened out. Sunil was always available to answer my questions and address any concerns I had.Once my Invisalign treatment was complete, Sunil performed the composite bonding, the results are truly amazing! My teeth look perfectly natural and even. I'm so happy with the way my smile looks now.Sunil is not only a skilled dentist, but he's also a very kind and caring person. He made me feel comfortable and at ease throughout the entire process. I would highly recommend Sunil to anyone looking for a dental professional.

read more
I have had face treatments with Saj, who is very patient, professional and honest. I look forward to going back.
I woke up with toothache start of the week and by the Saturday I was in bits. Found Dental Kind online and Dr Chirag saw me on the Saturday and extracted the tooth for me and I've been pain-free

...

since. He was very kind snd gentle. Very happy with the professional service! Would highly recommend! I plan to come back for further treatment !

read more
The people in here are so Patient and caring. I cannot recommend them enough.
Amazing staff, so helpful, an amazing outcome from treatment
I have had composite bonding, some crowns and a bridge. I am extremely happy with the overall improvement in the size, shape and colour of my teeth. They are natural looking and Sunil worked hard to

...

get me the result I wanted in time for my son's wedding.Would highly recommend this dental practice. The whole team are very friendly and were keen to see the end result.

read more
Saw Chloe the hygienist today . Very welcoming, kind and patient. Put me at ease and talked through all the procedures. Very friendly receptionists. Highly recommend this practice.
Can I thank everyone there they are so supportive and helpful I don't know what I would have done without them and the quality of work is amazing thank you and I would highly recommend dental kind

...

for any dental work thanks again John Lawrence

read more
What a fantastic dental practice. I can't praise them enough for the very kind way they have treated me and the great work they have done. For the first time I can start to smile with confidence.

...

Highly recommend!!!

read more
By far the best dentistry I've experienced. I cannot praise the excellence demonstrated along with professionalism and caring friendly efficient reception staff. I needed urgent treatment that was

...

carried out both promptly and effectively in perfect surroundings. I'm looking forward to my next appointment… how often is that stated 🙏

read more
Hello… my experience with the hygienists and Dr Sunil was at a very professional level when I visited in December 2022….and the dental practice has reached a high level in all aspects,Well done and

...

keep up the good work the whole team are doing!

read more
Having been to several dentists to repair my jaw I have found that DentalKind in Billericay to be the most compassionate of them all. They take patients welfare seriously. I am having major surgery

...

on my jaw with replacement teeth on a neo-arch. All the work to be done has been explained to me and when I have had questions these have been answered promptly and satisfactorily so that I understand every step of the way. I would highly recommend this practice to anyone wanting to undergo surgery and definitely to those who have issues with dentists.

read more
Excellent service and care. The best dentist I have ever had.
Sunil and DentalKind have been an excellent choice as my dentist. I researched a number of private dentists in the area before choosing these guys, and I was a little apprehensive as I had never

...

previously used a private only dentist and I was worried about the costs involved.I have to say that from the very beginning, Sunil and the team never made me feel that they put their commercial interests in front of what was right for me and my desired outcome. There were points during my treatment where I was even recommended to possibly see a NHS dentist if it worked out more viable for me. I always felt like everyone from the dentist, the dental nurse and admin team went the extra mile to ensure service was excellent. I am super pleased with the outcome and intend to go back and use their services again soon. As the saying goes, you pay for what you get.

read more
Great service from start to finish, had so many other Dentists say "my issue couldn't be fixed" until I went to see Dr Sunil. Had a really good consultation and then the actual treatment was

...

fantastic, I was made to feel at ease and felt comfortable throughout. I'm so happy with the result. Thank you DentalKind and Dr Sunil.

read more
The Doctor was very friendly and helpful.
I was rigid with fear at the thought of a wisdom tooth extraction, 2 large replacement fillings + periodontal treatment.I hadn't been to a dentist since before the pandemic when my previous dentist

...

retired and anyhow the injections I used to have never made my visits any easier…I was always terrified.Recommended by my husband, step forward Dr Sunil and his team at Dentalkind and take a HUGE bow.Together with Dr Paschal who kept me sedated throughout the procedure I felt no pain, no discomfort and no stress.The care throughout & afterwards was exemplary, and after a good sleep when I got home I suffered no after-pain whatsoever.Thank-you Dentalkind, from the bottom of my root canals, for the care & professionalism shown to me and for bringing my smile back.

read more
I worked with dr Rahul and I have nothing bad to say, from my first consultation he has provided honest and good advice on what it was I was looking for, extremely professional, the best dentist I

...

have ever been too, customer service is fantastic along with the facility being clean and hygienic.

read more
Dr Rahul saw me on an emergency consultation to review a chipped front tooth due to an accident over the weekend which needed to be urgently fixed ahead of a wedding. He was incredibly thorough in

...

explaining the possible courses of treatment and the process for narrowing down on the exact treatment needed. Dr Rahul and the nurse did an exceptional job in repairing the chipped tooth with composite bonding, so much so my partner couldn't tell which tooth I had chipped in the first place. Excellent staff and service all round and couldn't be more thankful. Would highly recommend!

read more