What is Light Eyes treatment in Billericay?
Light Eyes is a mesotherapy cocktail of special ingredients to revitalise and refresh the area around your eye.
Light Eyes treatment will:
Reduce dark circles under the eyes
Smooth out fine wrinkles
Reduce dryness around the eyes
Reduce puffiness and bags around the eyes
Reduce skin laxity around the eyes
Brighten eyes to give a younger looking appearance
According to Vogue and Tatler magazines, Light Eyes has been hailed as "the best under eye treatment" and patients from Billericay, Chelmsford, Ramsden Heath, Basildon,Brentwood, Stock, Hutton, Shenfield and Essex agree!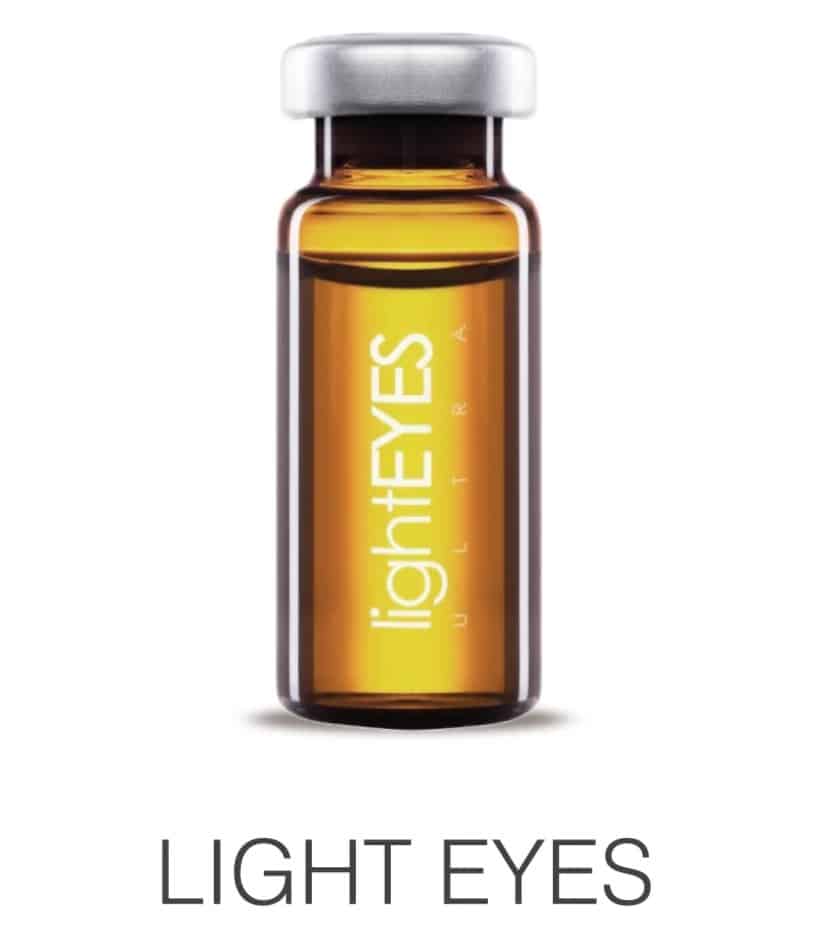 How does Light Eyes treatment work in Billericay?
Light Eyes contain special ingredients which when injected just beneath the skin will:
Improves circulation to brighten and enhance the eye area
Promotes elasticity so skin is tighter and rejuvenated
The key ingredients used within Light Eyes are:
Hyaluronic acid – found in the skin's natural resource this is vital for keeping skin hydrated and young looking
Rosemary extract – An antioxidant rich in phytolipids which is good for skin repair
Superoksid Dismutase – A strong antioxidant found in the body as well as in many plants
Argireline – Reduces the depth of wrinkles caused by repetitive use of facial muscles
Fermented papaya – has a high carotenoid content that slows down the ageing process caused by free radicals
Chamomile extract – Provides anti-inflammatory and soothing properties
Ruscus and blueberry extract – Improves blood circulation and promotes skin health
Vitamin C – Promotes the formation of collagen, hyaluronic acid and other anti-ageing processes
How is Light Eyes treatment administered in Billericay?
Light Eyes treatment is administered by a skilled practitioner in a series of small and quick injections to the area around the eyes.
Are there any side effects in using Light Eyes Treatment?
Light Eyes treatment may make your eyes water and sting a little, but the pain is bearable.
Side effects are rare but may consist of slight bruising and swelling from the injection entering the skin rather than the treatment itself.
An allergic reaction to Light Eyes is rare.
Light Eyes summary in Billericay
Treatment Time
Light Eyes treatment takes between 30 and 60 minutes to administer.
How many treatments:
Results are noticeable after one treatment, however we recommend 2-3 treatment for optimal results.
Suitable for:
Patients with dark circles under the eyes, swelling or bags, dry skin or wrinkles, loose skin around the eyes. Also, patients who want to brighten the area around the eyes for a more youthful appearance.
Results:
Results are visible immediately. Any swelling or redness caused by the injection may take a day or so to reduce so expect full results after that.
Longevity of results:
Each patient is different, but treatment can last from 6 – 18 months.
Pain level:
Mild to moderate
From £180